M Wright and Sons is certified to ISO 9001:2015. We are also one of the few UK textile manufacturers to hold certification to the global Aerospace quality standard EN 9100:2018 / AS9100 Rev D.
Through a process of continuous improvement and set Quality Objectives, it is the company's aim to supply defect free, proven specified products to customer requirements. It is our intention to further enhance customer satisfaction through the delivery of quality product to confirmed timescales. This is consistent with M Wright and Sons Quality Policy and Statement of Values, which outline our commitment to fair relationships with all interested parties.
Please contact us to discuss any specific requirements that you may have regarding Quality Management Procedures.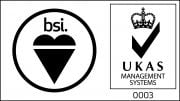 ISO 9001 / AS9100
FM 38392